University of Colorado to host Medical Cannabis Research Symposium
A 2-day event that brings together medical professionals and cannabis industry experts. The goal of the symposium is to provide attendees with information about the current cannabis research and the future of the cannabis industry.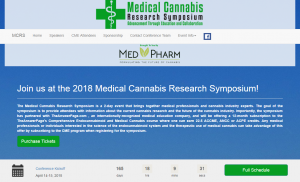 Importantly, the symposium has partnered with TheAnswerPage.com , an internationally-recognized medical education company, and will be offering a 12-month subscription to the TheAnswerPage's Comprehensive Endocannabinoid and Medical Cannabis course where one can earn 22.5 ACCME, ANCC or ACPE credits.
Any medical professionals or individuals interested in the science of the endocannabinoid system and the therapeutic use of medical cannabis can take advantage of this offer by subscribing to the CME program when registering for the symposium.
Keynote Speaker : Eugene Monroe
Eugene began his football career as an offensive lineman in high school, where he was ranked the number three player in the United States and graduated eighth in his class. Eugene was a unanimous All-ACC selection, voted the ACC's top blocker, and was regarded as the most dominating offensive lineman in college football. He was drafted eighth overall in the 2009 NFL Draft by the Jacksonville Jaguars.
In October 2013, Super Bowl champion Baltimore Ravens orchestrated a trade to acquire the star left tackle. During his time in the NFL, Eugene was consistently graded as one of the League's best pass blockers. On July 21, 2016, after 18 years of playing football, Eugene made the difficult decision to retire from the NFL so he could focus on his personal health and spend more valuable time with his wife and three children. Since retiring, Eugene has become the lead advocate for medical cannabis research and policy reform in the NFL. Eugene demonstrates his commitment to education and policy reform by serving as a board member of the NFLPA Pain Management Committee and the HealthyUNow Foundation (supporting the Autism community), and is the Athletic Ambassador for Doctors for Cannabis Regulation. He is also co-author of the book Youth Sports: Start Here: Everything You Need to Know About Promoting Health and Preventing Injury for Your Young Athlete. Eugene looks to add value in communities by partnering, donating and investing in community programs and medical research, and educating the broader community by speaking at healthcare and medical cannabis conferences. He is also a partner at Green Thumb Industries (GTI), one of the country's leading medical cannabis cultivation and dispensary facilities. At GTI, Eugene works towards bringing dignified and safe access to medical cannabis patients in need. Eugene is dedicated to educating the public on how these medications can be used safely and as non-addictive alternatives to prescription opioids.
Speakers
Alfonso Romero Sandoval, MD, PhD
Dr. Romero-Sandoval received an M.D. from the Centro Universitario de Occidente, Quetzaltenango (Universidad de San Carlos de Guatemala) in 1999 and a Ph.D. in Neuroscience from Universidad de Alcalá de Henares, Spain, in 2003. His postdoctoral training was completed at Wake Forest University, Winston Salem, NC (2003-2006) followed by Geisel Dartmouth Medical School, Lebanon, NH (2006-2007). Dr. Romero-Sandoval has held academic positions as Instructor (2007-2009) and Assistant Professor (2009-2012) at Geisel Dartmouth Medical School, and as Associate Professor (2013-2017) and the Director of Research (2014-2017) at Presbyterian College School of Pharmacy in Clinton, SC. Currently, Dr. Romero-Sandoval is an Associate Professor at Wake Forest University School of Medicine, Winston Salem, NC. Dr. Romero-Sandoval studies the molecular mechanisms of cannabinoid receptor activation in skin and immune cells in the induction of analgesia, resolution of inflammation, and promotion of tissue repair. The Romero-Sandoval laboratory explores the role of endocannabinoids in postoperative pain and its transition to persistent postoperative pain in addition to the function of phosphatases and kinases in spinal cord and the peripheral nervous system. Most recently Dr. Romero-Sandoval has focused on elucidating the role of macrophages in wound healing and the transition from acute to chronic pain in the context of diabetic neuropathy or surgical pain. The ultimate goal of the Romero-Sandoval lab is to restore the molecular mechanisms and cellular functions that are altered under pathological inflammatory and painful conditions. The Romero-Sandoval laboratory uses highly translatable clinical approaches such as the use of human primary cells, the use of clinically relevant functional assays, and the use of clinically tested nanotechnology for potential cell-directed gene therapies.
Dr. Sue Sisley, MD
Dr. Sue Sisley MD is an Arizona-based physician practicing Internal Medicine and Psychiatry. Learn about 'Cannabis and Dementia' from Dr. Sisley at the Medical Cannabis Research Symposium in Denver, CO. She works as Medical Director for medical cannabis license holders in 11 different states/territories from Hawaii to Puerto Rico to New York. Sue serves as Site Principal Investigator for the only FDA-approved randomized controlled trial in the world examining safety/efficacy of whole plant marijuana in combat veterans with treatment-resistant post traumatic stress disorder PTSD. Dr. Sisley is on faculty at Colorado State University PUEBLO campus, recruited for core planning team to organize the CSUP "ICR Institute of Cannabis Research" in Pueblo, Colorado. Dr. Sisley has been a Member of Nevada ILAC Medical Cannabis Commission for the past two years outlining regulations for laboratory testing including limits on pesticides, residual solvents and other guidelines that are currently being used as a model for other states medical cannabis laws. She also serves on the Steering Committee for Thomas Jefferson University Lambert Cannabis Medical Research Center.
Marian Wilson, PhD, MPH, RN-BC
Marian Wilson, PhD, MPH, RN-BC is an assistant professor at Washington State University College of Nursing where she teaches research courses and is executive faculty in the Program of Excellence in Addictions Research and faculty for the Sleep and Performance Research Center. She is board certified in Pain Management Nursing from the American Nurses Credentialing Center & American Society for Pain Management Nursing. Dr. Wilson has extensive clinical expertise in acute and chronic pain care and behavioral health. She has experience as an oncology nurse and nurse scientist leading clinical research in acute care settings and has published research testing novel electronic health technologies to extend accessibility of non-pharmacologic and psychologically-based chronic disease symptom-management strategies. Her current focus is on self-management programs for persistent pain populations using online interventions. The study she presents on today is one of several she has conducted focused on addressing poorly controlled and under-recognized symptoms among people with persistent pain. This study surveyed people in medication-assisted opioid treatment programs to assess symptoms of pain, depression, anxiety and use of cannabis to relieve symptoms. Dr. Wilson has received funding for her work on symptom management from the National Center for Complementary and Integrative Heath, American Society for Pain Management Nursing, WSU Alcohol and Drug Abuse Research Program, and the Inland Northwest Community Foundation.